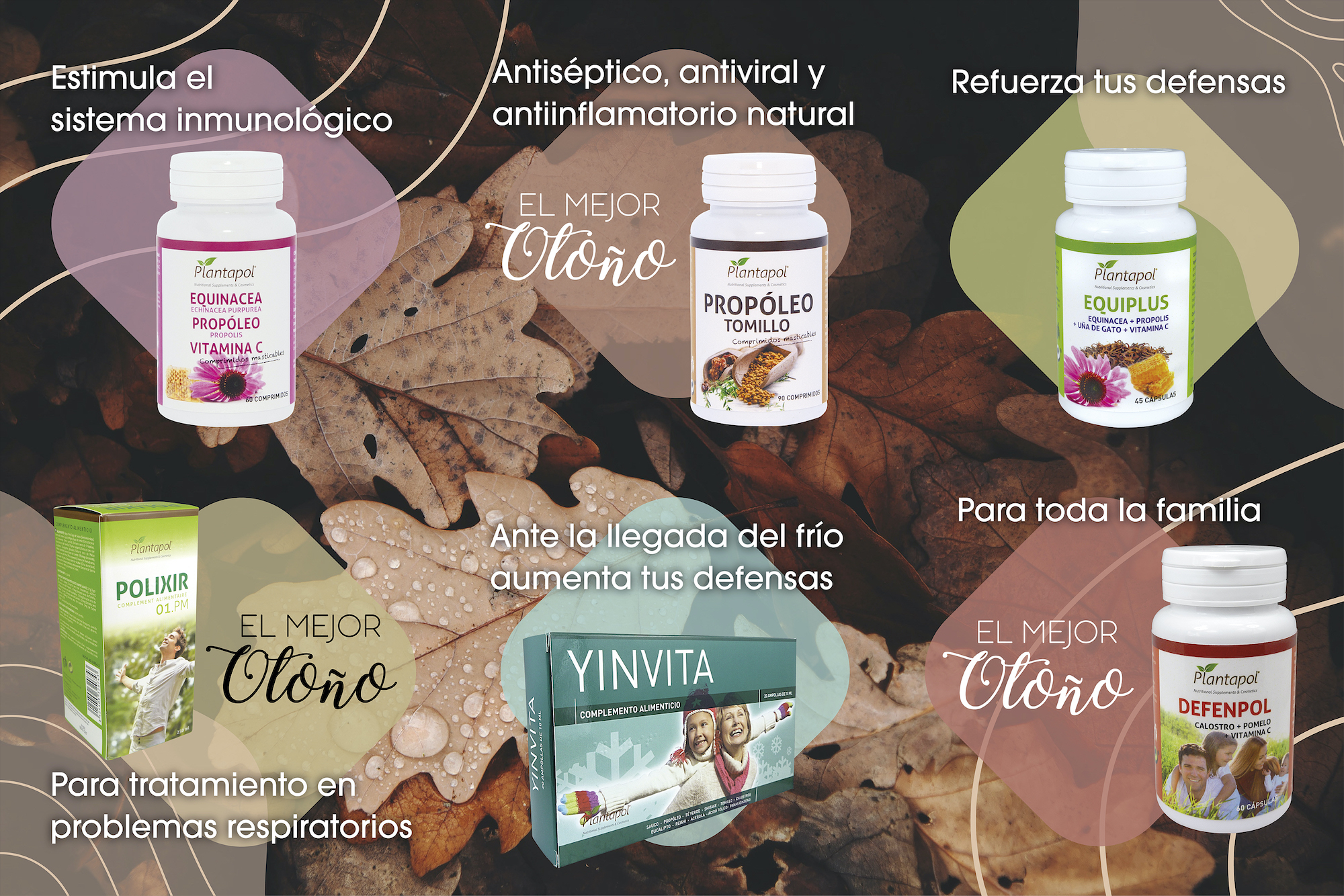 The best autumn with Plantapol
Autumn is here and announces the arrival of cold, temperature changes and all that this implies. Colds, respiratory problems, ...
To be prepared, the best thing is to strengthen our body's defenses and improve our immune system . And the best and most natural way to do it is with the products that we offer you at Plantapol. Products formulated with natural ingredients that will make your energy peak for the arrival of the winter season.
DEFENPOL is a food supplement that has colostrum among its ingredients, which strengthens the defenses of the immune system; Grapefruit, which is a source of minerals such as potassium and magnesium, includes folic acid and vitamins A, B1, B2 and C.
YINVITA is a food supplement specially prepared to give the immune system more strength to face the arrival of winter. Its ingredients include green tea extract, colostrum, elderberry juice, reishi mycelium, acerola, ascorbic acid, folic acid, fructose, eucalyptus, shiitake, copper gluconate, manganese gluconate, ginseng, thyme and propolis.
POLIXIR has among its ingredients lemon and fig juices, pine and eucalyptus dry extract, elderberry juice, stevia, plantain dry extract, honey, rose hip, mallow and propolis dry extract, pectin, orange blossom dry extract and thyme. A combination specially studied to strengthen our defenses.
EQUIPLUS is a 100% essential food supplement for the elimination of viruses and bacteria and improves gastrointestinal health. Cat's claw strengthens the immune system, just like echinacea. The propolis also fights the flu and colds. softens the throat and reduces hoarseness
PROPOLIS-THYME
It is a natural food supplement that provides what is necessary for our immune system to be alert against negative agents for our body. Propolis has a proven bactericidal, antiviral and antiparasitic action and thyme is expectorant and antiseptic, it cleanses the lungs when suffering from coughs or infections.
ECHINACEA-PROPOLIS- VITAMIN C are natural chewable tablets that help strengthen our body's defenses. Echinacea stimulates the immune system, propolis has a proven bactericidal, antiviral and antiparasitic action and vitamin C has an antioxidant, healing and tissue repair effect.
With Plantapol, this will be THE BEST AUTUMN.
Boletín Plantapol
¡Subscríbete ahora!
Recibirás información de novedades, ofertas y descuentos en nuestros productos.